New management at Blue Knob Cafe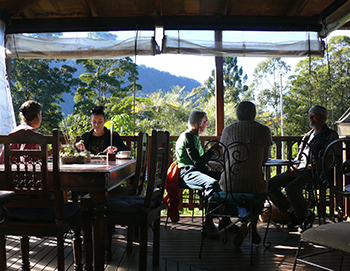 Blue Knob Cafe is now under the auspices of the Gallery with a new manager, Paul Scott and volunteer members until Dec 2017.
Paul Scott has a wealth of experience in the hospitality industry for the last 20 years and ran the cafe at the end of 2016 for 6 weeks as a fundraiser for the Hall.
With a tasty, home style menu which includes all day breakfasts, pies made on the premises by Paul, a selection of cakes, slices, coffee, teas, fresh fruit juices, and smoothies. Gluten free and other options are also available on request.
The Blue Knob Cafe is steaming along, literally. Many thanks to all those members who are volunteering in the Cafe, it is enabling some good fundraising for the continual improvements at the Hall. A huge thank you goes to Paul Scott who has continued to manage the Café as a volunteer. His hearty all day breakfasts and home-made pies are making a big hit with customers.
With great views of beautiful Blue Knob from the cafe verandah, you can enjoy a bustling cafe on a Saturday morning with the Blue Knob Farmers Market (8:30am – 1pm) or a quiet relaxing space on the other days we are open.
Blue Knob Cafe operates during the same opening hours as the Gallery and bookings of 10 or more are available for special occasions outside of those hours.
Please contact us on 0266897449 or email bkhgallery@harbourisp.net.au for more information.
The Menu
Welcome to the Blue Knob Cafe which is now being run by Volunteer Members.
Please choose from this menu which we hope will have something to satisfy you. All food is prepared fresh on the premises. Please feel free to ask and we will endeavour to satisfy your requirements.
Download full menu here (20kb MSWord.docx)
The cafe is operating as a fund raiser for the Hall which is reflected in the modest prices.
Bon appétit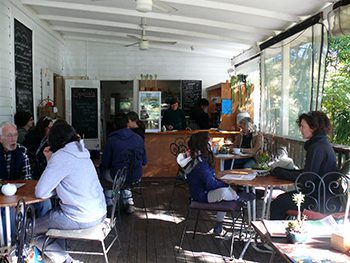 Blue Knob Hall Gallery 719 Blue Knob Road, Lillian Rock NSW 2480