We thought it was high time for everyone to meet the new and fabulous management of Blue Knob Cafe!
Meet Rebekah and Simon!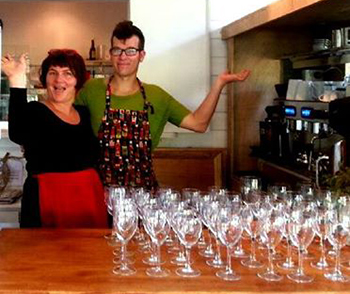 Rebekah grew up just down the road and has since traveled the world as an artist, creator and imagineer before returning to her roots right here in Blue Knob.
Simon is proud of his French ancestry and remembers learning to cook with his grand-maman as a boy. He is looking forward to introducing some French cuisine to the cafe menu and sharing his love of food (particularly cheese).
The cafe menu is delicious, simple, local, seasonal and evolving. Rebekah and Simon can't wait to start creating delicious food for their friends and community!
Rebekah and Simon warmly invite you to the Official Opening of the Blue Knob Café on 10th of February.
The Menu
Arancini – filled with Mozzarella (vegetarian) or Prosciutto, baby peas and cream

Served with
Roulade of "Seven Magpies Farm" goat's chèvre, labneh & roasted seeds
Veloutè of Roasted red capsicum
Salade Colorée

Dessert
Your choice from the evenings selection

Cost is: $15 for main meal and $5 dessert
Bookings for dinner, with your option of a vegetarian or a non vegetarian meal are essential for catering purposes.
Crafternoon
The café will be hosting a Crafternoon on Sunday the 29th of January. Bring along a craft project to work on or some items of clothing to mend.
For more information about café events and open hours, head to our Facebook page: https://web.facebook.com/blueknobcafe/

Blue Knob Hall Gallery 719 Blue Knob Road, Lillian Rock NSW 2480