Events

Fri 6th October - Sun 19th Nov
The Nature of Things
Opening Night Fri 6th Oct
View exhibition here
GALLERY & CAFE' HOURS
Thursday 10-4pm
Friday 10-2pm
Saturday 8.30-2pm (Cafe Open)
Sunday 10-4pm (Cafe Open)
BLUE KNOB HALL FARMERS' MARKET
Every Saturday 8.30am - 1.00pm. A fabulous range of fruit, veggies, seedlings, woodfired breads and delicious pastries, as well as local home-made produce. The grain mill is also available to grind your own grains or buy them from the market.
Sustainability is the theme ..... Grow local, buy local.
Read more here .....

BLUE KNOB CERAMIC STUDIO
The studio is open on Thursdays – Saturdays 10-4pm. Cost is $10 for annual membership (for insurance purposes) and $5 for a 2 hour session. All materials and firings will be at cost price.
Please contact Heather at the Gallery if you would like more information or to be put on our contact list.
Read more about the Ceramic Studio here
Judy Cassab - Portrait donation.
Blue Knob Hall Gallery has had the honour of being the recipient of a lithograph print titled 'Guitar Player' by the renowned Australian artist Judy Cassab (1920 – 2015).
Through her son John Seed and family she had a long association with people in the Lismore/Channon area and became very close to people's hearts. Donated to the Gallery by her son John and family, on her behalf, it will have its own permanent place to hang in our community Gallery.
Judy Cassab was the first woman to win the Archibald Prize twice for her portraits 'Stanislaus Rapotec' (1960) and 'Portrait of Margo Lewers' (1967) She was an artist of immense insight and imagination, and as well as painting portraitures of social luminaries, royals, fellow artists, family and friends, she was also a prolific draughtswoman, printmaker and an acclaimed landscape artist.
Our deepest gratitude goes to her family in thinking of us as a place to hold one of her beautiful pieces. If you would like to know more about Judy Cassab and her work you can go to www.judycassab.com
MOORE WORKSHOP SPACE
There are currently no workshops being held. If you would like to run a class please phone us at the BKH Gallery on (02) 6689 7449 or email bkhgallery@harbourisp.net.au
For full details of workshops, please visit our workshop page here
BLUE KNOB HALL GALLERY ARTIST'S and FRIENDS LUNCH
These are held at 12.30pm on the last Thursday of every month. Enjoy a main course and dessert in beautiful surroundings with interesting company & conversation.

Bookings are required.
Phone (02) 6689 7449 or email bkhgallery@harbourisp.net.au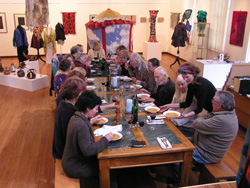 Blue Knob Hall Gallery 719 Blue Knob Road, Lillian Rock NSW 2480
Phone: (02) 66897449