Events

Current Exhibition:

Fri 8th June - Sun 5th Aug
The Fibre Show - Unravelled
Opening Night Friday 8th June
View Exhibition here
GALLERY & CAFE' HOURS
Thursday 10-3pm
Friday 10-3pm
Saturday 8.30-3pm (Cafe Open)
Sunday 10-3pm (Cafe Open)
BLUE KNOB HALL FARMERS' MARKET
Every Saturday 8.30am - 1.00pm. A fabulous range of fruit, veggies, seedlings, woodfired breads and delicious pastries, as well as local home-made produce. The grain mill is also available to grind your own grains or buy them from the market.
Sustainability is the theme ..... Grow local, buy local.
Read more here .....

BLUE KNOB CERAMIC STUDIO
The studio is open on Thursdays – Saturdays 10-4pm. Cost is $10 for annual membership (for insurance purposes) and $5 for a 2 hour session. All materials and firings will be at cost price.
Please contact Heather at the Gallery if you would like more information or to be put on our contact list.
Read more about the Ceramic Studio here
MOORE WORKSHOP SPACE
Ink painting, mark making and gold workshop with Sofie Dieu
For more information, pleasse click here
If you would like to run a class please phone us at the BKH Gallery on (02) 6689 7449 or email bkhgallery@harbourisp.net.au
For full details of workshops, please visit our workshop page here
BLUE KNOB CHOIR
Blue Knob Choir is a local community choir at Blue Knob Hall Gallery. We have been in existence for around 9 years and we would love to have anyone who might be interested in joining our choir to come along on any Thursday evening from 4.15pm to 5.45pm to sing with us.
We are an acapella group who sing an eclectic mix of songs, some in different languages. We have a lot of fun, and the singing is very uplifting. There is no cost involved, other than your time and enthusiasm. If you would like to know more, please call the Gallery on 6689 7449.
BLUE KNOB HALL GALLERY ARTIST'S and FRIENDS LUNCH
These are held at 12.30pm on the last Thursday of every month. Enjoy a main course and dessert in beautiful surroundings with interesting company & conversation.

Bookings are required.
Phone (02) 6689 7449 or email bkhgallery@harbourisp.net.au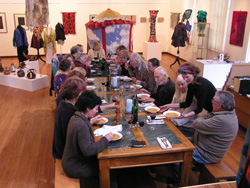 Blue Knob Hall Gallery 719 Blue Knob Road, Lillian Rock NSW 2480
Phone: (02) 66897449