Events
Current Exhibition
Fri 15th Nov - Sat 1st February 2020
The Artist's Choice
Opening Night Friday Nov 22nd
View exhibitionALLERY & CAFE' HOURS
Thursday 10-3pm
Friday 10-3pm
Saturday 8.30-3pm (Cafe Open)
Sunday 10-3pm (Cafe Open)
The Management Committee would like to thank with the deepest gratitude the exhaustive work that has been done by all the fire fighters, men and women of all the Fire Brigades of the area, the CWA Nimbin, everyone who organised and helped our community over this period, which still continues for many.
Artists & Friends The next Artists and Friends Lunch will be held on Thurs 19th December at 12.30pm with a set menu for $20 incl Main & Dessert.
Summer Night - An Evening of French Cuisine –
Fri 13th December with Chef Julie Naturel.
6:30pm for 7pm dinner. Three course meal $35 per head. Bookings essential please call the Gallery 66897449 or email: bkhgallery@harbourisp.net.au
Closing dates for Gallery/Cafe and Ceramic Studio will be 2 weeks from Sun 22nd Dec at 3pm until re-opening on Thurs 9th January at 10am. This is a much needed break for all the volunteers and we wish everyone the best possible festive season, and coming New Year.
BLUE KNOB HALL FARMERS' MARKET
Every Saturday 8.30am - 1.00pm. A fabulous range of fruit, veggies, seedlings, woodfired breads and delicious pastries, as well as local home-made produce.
Sustainability is the theme ..... Grow local, buy local.
Read more here .....

BLUE KNOB CERAMIC STUDIO
The studio is open on Thursdays – Saturdays 10-3pm.
Fee structure
Cost: $25 Joining Fee & $10 to renew each year.
This covers studio and gallery with all the benefits of both.
Session: $5 per 2 hour session + cost of materials and firings
Please contact Heather at the Gallery if you would like more information or to be put on our contact list.
Read more about the Ceramic Studio here
MOORE WORKSHOP SPACE
There are currently no workshops programmed
For details of past workshops, please visit our workshop page here
BLUE KNOB CHOIR
Blue Knob Choir is a local community choir at Blue Knob Hall Gallery. We have been in existence for around 9 years and we would love to have anyone who might be interested in joining our choir to come along on any Thursday evening from 4.15pm to 5.45pm to sing with us.
We are an acapella group who sing an eclectic mix of songs, some in different languages. We have a lot of fun, and the singing is very uplifting. There is no cost involved, other than your time and enthusiasm. If you would like to know more, please call the Gallery on 6689 7449.
BLUE KNOB HALL GALLERY ARTIST'S and FRIENDS LUNCH
These are held at 12.30pm on the last Thursday of every month. Enjoy a main course and dessert in beautiful surroundings with interesting company & conversation.

Bookings are required.
Phone (02) 6689 7449 or email bkhgallery@harbourisp.net.au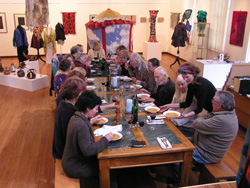 Blue Knob Hall Gallery 719 Blue Knob Road, Lillian Rock NSW 2480
Phone: (02) 66897449