BLUE KNOB HALL GALLERY & CAFE
Current Exhibition
Sun June 26th - Sat August 13th
Fabulous Fibre - The Fibre Show
View exhibition
The Fibre Show. This annual exhibition has been held at Blue Knob Hall Gallery for more than 15 years as an annual mid-year event, starting with the wonderful felt-makers and fibre artists of the area. It has continued to change over the years as different artists with new and old forms of transforming fibre into artworks and the everyday items that we use, wear or admire.
A central piece of this year's exhibition has been Djuana Leiselle's 'Quetzalcoatl Coat, Hat and Medicine Bag'. This striking and colourful coat and accessories has been a 12 yr project and has caught the eye and the interest of everyone who has walked in the door.
The exhibition has everything from the refined and beautifully woven jackets and scarves of Wendy Cartwright; and Kim Jones - 'The Wild Weaver' whose hand spun, dyed and woven jackets done using the 'Zero Waste' Sewing method showcases two women who are masters of their craft. There is still plenty to see at this annual exhibition which is dedicated to this wonderful multi-faceted medium.
*** BLUE KNOB CAFE ***
Please check Blue Knob Café Facebook page for what's on the menu each day, or phone after 10am for info or to place an order.
Cafe Hours:
Thursday 10am – 3pm
Friday 10am – 3pm
Saturday 8:30am - 3pm
Sunday 10am - 3pm& CAFE' HOURS
BLUE KNOB COMMUNITY MARKET
The Market is still operating
Every Saturday 8.30am - 12 noon. A fabulous range of fruit, veggies, seedlings, woodfired breads and delicious pastries, as well as local home-made produce.
Sustainability is the theme ..... Grow local, buy local.
Read more here .....

BLUE KNOB CERAMIC STUDIO
The studio is open on Thursdays – Saturdays 10-3pm.
Fee structure
Cost: $25 Joining fee and $10 to renew each year. This covers membership of the Ceramic Studio and the Gallery, with all the benefits of both.
Sessions: 2hrs/week for 8 weeks is $60 plus cost of materials and firings.
Please contact the Gallery if you would like more information or to be put on our contact list.
Read more about the Ceramic Studio here
MOORE WORKSHOP SPACE
There are currently no workshops programmed
For details of past workshops, please visit our workshop page here
BLUE KNOB CHOIR
To be advised
BLUE KNOB HALL GALLERY ARTIST'S and FRIENDS LUNCH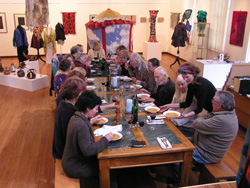 Future dates to be advised
Blue Knob Hall Gallery 719 Blue Knob Road, Lillian Rock NSW 2480
Phone: (02) 66897449
bkhgallery@harbourisp.net.au