Events
The year has flown by and what a year it's been. With Covid 19 exacting a whole new way of operating, the Gallery, Cafe and Ceramic Studio have been able to keep functioning with the support of our volunteers and their dedication. Their support of the arts, the Cafe and the Ceramic studio has kept us thriving.
The artists who exhibit in the Gallery, the patrons and regular customers coming to the Cafe, and the experienced and budding potters that have filled the classes at the Ceramic Studio, is an expression of a community spirit that is alive and well.
CURRENT EXHIBITION
Thurs 3rd Dec - first week of Feb 2021
The Artist's Choice
View exhibition
Holiday Closing Dates: The Gallery/Cafe and Ceramic Studio will be closed from Mon 21st December and re-opening on Thurs January 14th.
This is a slightly longer break, as we all need it; a well earned break for all the volunteers.
On behalf of Blue Knob Hall Gallery/Cafe & Ceramic Studio we wish you all the best for the festive season, and look forward to bringing you more art, food and friendship in 2021.
*** BLUE KNOB CAFE ***
Blue Knob Cafe is now open on the usual hours Thurs – Sun 10am – 3pm with limited seating as per Covid regulations. There is a basic menu of All Day Breakfasts, Pies and All Day Snacks available.
There is a wholesome gluten free vegetarian and a meat option for $12.50 per serve. There is also a dessert option for $8. The menu will rely on what produce is available at the time. Paul will also continue to make his world famous pies for $5 (also according to availability of ingredients).
You can check Blue Knob Café Facebook page for up to date options.RY & CAFE' HOURS
BLUE KNOB COMMUNITY MARKET
The Market is still operating
Every Saturday 8.30am - 12 noon. A fabulous range of fruit, veggies, seedlings, woodfired breads and delicious pastries, as well as local home-made produce.
Sustainability is the theme ..... Grow local, buy local.
Read more here .....

BLUE KNOB CERAMIC STUDIO
The studio is open on Thursdays – Saturdays 10-3pm.
Fee structure
Cost: $25 Joining fee and $10 to renew each year. This covers membership of the Ceramic Studio and the Gallery, with all the benefits of both.
Sessions: 2hrs/week for 8 weeks is $45 plus cost of materials and firings.
Please contact Heather at the Gallery if you would like more information or to be put on our contact list.
Read more about the Ceramic Studio here
MOORE WORKSHOP SPACE
There are currently no workshops programmed
For details of past workshops, please visit our workshop page here
BLUE KNOB CHOIR
Blue Knob Choir is a local community choir at Blue Knob Hall Gallery. We have been in existence for around 9 years and we would love to have anyone who might be interested in joining our choir to come along on any Thursday evening from 4.15pm to 5.45pm to sing with us.
We are an acapella group who sing an eclectic mix of songs, some in different languages. We have a lot of fun, and the singing is very uplifting. There is no cost involved, other than your time and enthusiasm. If you would like to know more, please call the Gallery on 6689 7449.
BLUE KNOB HALL GALLERY ARTIST'S and FRIENDS LUNCH
These are held at 12.30pm on the last Thursday of every month. Enjoy a main course and dessert in beautiful surroundings with interesting company & conversation.

Bookings are required.
Phone (02) 6689 7449 or email bkhgallery@harbourisp.net.au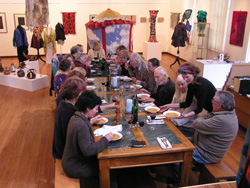 Blue Knob Hall Gallery 719 Blue Knob Road, Lillian Rock NSW 2480
Phone: (02) 66897449