BLUE KNOB HALL GALLERY & CAFE
Current Exhibition
Thurs 16th Nov - late Jan/Early Feb
The Artist's Choice
View exhibition
** BLUE KNOB CAFE **
Blue Knob Cafe –has an all day breakfast menu, meals, specials, cake & coffee.
Monthly Sunday morning music is ongoing. The next date will be Sunday September 3rd from 10am. For info re dates and who's playing check our Face Book page.
Please visit our Facebook page Blue Knob Gallery, Cafe & Ceramic Studio
for what's on the menu each day, or phone after 10am for info or to place an order.
BLUE KNOB BACK YARDERS
From 9am – 12.30pm the Back Yarders at Blue Knob continues to add that extra bit of local interest on a Sat morning, with fresh produce, honey, preserves etc, along with pottery from Blue Knob Ceramic Studio. Watch this space for future developments as it continues to grow.
Read more here .....

BLUE KNOB CERAMIC STUDIO
The studio is open on Thursdays – Saturdays 10-3pm.
Fee structure
Cost: $25 Joining fee and $10 to renew each year. This covers membership of the Ceramic Studio and the Gallery, with all the benefits of both.
Course: 2hrs/week for 6 weeks is $100 plus cost of materials and firings.
Please contact the Gallery if you would like more information or to be put on our contact list.
Read more about the Ceramic Studio here
BLUE KNOB WRITERS GROUP
Blue Knob Writers Group meet weekly at Blue Knob Cafe on Sundays, you can contact Alex 02 66897268 or Helen 0487385134 for more information.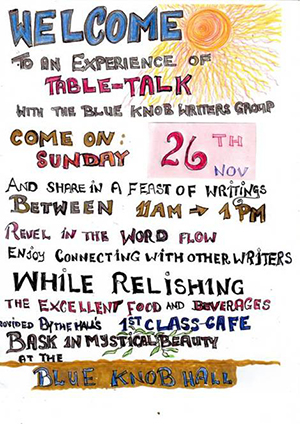 MOORE WORKSHOP SPACE
There are currently no workshops programmed for the BKHG
For details of past workshops, please visit our workshop page here
BLUE KNOB CHOIR
Blue Knob Choir is back and meeting on Thursdays at 3.30pm at Blue Knob Hall

Blue Knob Gallery, Cafe & Ceramic Studio
email: bkhgallery@iinet.net.au
Blue Knob Hall Gallery 719 Blue Knob Road, Lillian Rock NSW 2480
Phone: (02) 66897449
Blue Knob Hall Inc ABN: 70 207 419 280