Events

Colour and Light
Fri 10th February - Saturday 1st April
Official Opening of the Blue Knob Café
View Exhibition here
GALLERY & CAFE' HOURS
Thursday 10-4pm
Friday 10-2pm
Saturday 8.30-2pm (Cafe Open)
Sunday 10-4pm (Cafe Open)
BLUE KNOB HALL FARMERS' MARKET
Every Saturday 8.30am - 1.00pm. A fabulous range of fruit, veggies, seedlings, woodfired breads and delicious pastries, as well as local home-made produce. The grain mill is also available to grind your own grains or buy them from the market.
Sustainability is the theme ..... Grow local, buy local.
Read more here .....
BLUE KNOB MARKET FERMENTATION FESTIVAL 2017
9am - 1pm Saturday 4th March
This is a free community event and this year's theme is "The Probiotic Community"
Download flyer and speaker schedule here (880kb jpg)

BLUE KNOB CERAMIC STUDIO
The studio is open on Thursdays – Saturdays 10-4pm. Cost is $10 for annual membership (for insurance purposes) and $5 for a 2 hour session. All materials and firings will be at cost price.
Please contact Heather at the Gallery if you would like more information or to be put on our contact list.
Read more about the Ceramic Studio here
MOORE WORKSHOP SPACE
Art Therapy Workshop with Gisela Hartke
4 week workshop series in Feb (Fri 3rd & 17th 1-3pm) & March (Fri 3rd & 17th 1-3pm).
Blue Heart Workshop with Gisela Hartke - personal exploration through art'.
Sunday 26th March, 10am - 1pm
Drawing Classes with Paul Roguszka
6 weeks, 10am - 12pm Thurs Mar 16th – Thurs 20th April
Italian Cooking class with Italian pasta Chef
9am - 6pm, Monday 20th March
- Fresh Homemade pasta
For full details of workshops, please visit our workshop page here
If you would like to run a class please phone us at the BKH Gallery on (02) 6689 7449 or email bkhgallery@aapt.net.au
BLUE KNOB HALL GALLERY ARTIST'S and FRIENDS LUNCH
These are held at 12.30pm on the last Thursday of every month. Enjoy a main course and dessert in beautiful surroundings with interesting company & conversation.

Bookings are required.
Phone (02) 6689 7449 or email bkhgallery@aapt.net.au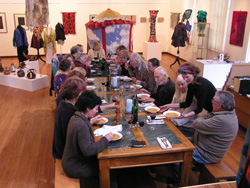 Blue Knob Hall Gallery 719 Blue Knob Road, Lillian Rock NSW 2480
Phone: (02) 66897449