"A Fine Line"

plus 'My Secret Garden'
Ceramics by Heather Kimber in the Solo Space
Fri 10th August - Sat 30th September
A Fine Line
The new exhibition at Blue Knob Hall Gallery is titled 'A Fine Line'. We use the expression 'to walk a fine line' to mean "to achieve or maintain a balance" or "to be very close to two different ideas or attitudes at the same time". Sometimes in life there is a 'line' we cross unknowingly, and in the making of artwork we often make a fine line in the process of drawing, painting, or sculpture. A line in art can express anything the artist wishes it to; with mark making in printmaking, drawing or painting the line is often used to express the ultimate in light and dark. An unintentional line can be formed because of the boundary between light and dark or two colours. It is used to describe a body or something in nature - the line a form takes. Out of many themes the artists who exhibit at Blue Knob Hall Gallery have been given, this one takes in all the aspects that can found in a work of art whether in 3D, 2D.

My Secret Garden – Heather Kimber – The Solo Space - Heather Kimber is a ceramic artist who is the guiding force behind the Blue Knob Ceramic Studio. Not only a great instructor and mentor she has been creating her own works after many years of volunteering at Blue Knob Hall Gallery, running the Café for many years, and the Ceramic Studio for the last two and a half years as a volunteer. She has been producing her own wonderful ceramic work and it is a long awaited solo show. These exhibitions run until Sat Sept 29th.
The Opening Night will be on Friday 10th August at 6:30pm with a meal on the night for $20 per person incl mains and dessert. If you would like to come along please book with the Gallery on 66897449 or email: bkhgallery@harbourisp.net.au
The exhibition runs until Sun 30th September.

Moore Workshop Space
Ink Painting Workshop with Sofie Dieu will be held on Sat 25th Aug. This multi award artist will be in the area to teach, for more info and to see her work www.sofie-dieu.com and contact email sofiedieu@gmail.com if you are interested in attending.

Artists & Friends Lunch
The next Artists and Friends Lunch will be held on Thurs 30th Aug at 12.30pm with a set menu for $20 incl main & Dessert.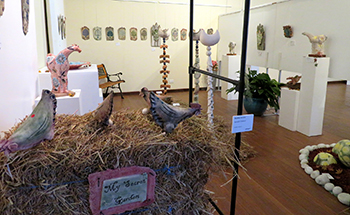 My Secret Garden by Heather Kimber
Blue Knob Hall Gallery 719 Blue Knob Road, Lillian Rock NSW 2480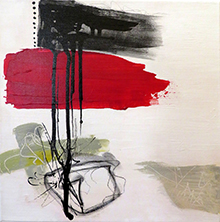 by Michelle Walker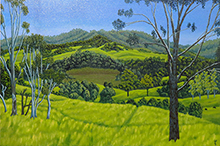 Contours by Ian FitzSimmons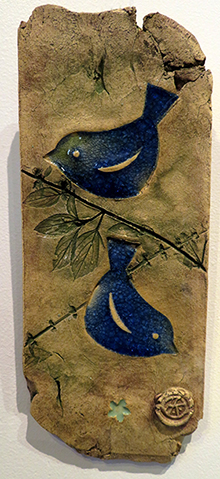 Blue Birds by Heather Kimber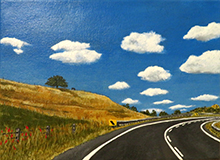 After Roseberry by Sonja Tritipepe