"The Artist's Choice"
Fri 22nd November - Sat 1st February 2020
The Artist's Choice opened on Fri 22nd November with a good turn out, with Vocal Minority Choir singing on the night. Due to the conditions with the fires in the area the opening was delayed a week, as everyone took care of their own homes and needs. With Blue Knob covered in smoke, we were still able to get this show on the road!
This is our last exhibition for the year and is not themed. Because of this our artists get to bring in what they choose out of their collection or new work recently created for this exhibition.
As is often the case any given exhibition can serendipitously reflect what might be happening around us at the time. Fiona Shadwell's hand painted cloth "Fire" was left with us a month ago little knowing what was about to happen. Andrew H Daley's photographic image of Bush Smoke over the Sacred Rocks, and Theodore Kennett-Raj's 'Year 2050' with our mobile oxygen respirators, remind us of the craziness of our times and that art can reflect the preciousness of our resources, as in Rebekah Seriah Webster's recycled wood sculpture "Conversation in Perspective".
We have a gallery full of diverse and colourful work, with felted wall hangings from Year 7/8 students at Rainbow Ridge Steiner School, and some artworks generously donated to the gallery by Joline Shervey as a fundraiser for the hall. There is artwork here that celebrates what we have to be grateful for and that also reminds us that so many things are held in the balance.
This exhibition runs through to Sat Feb 1st 2020.

Year 7-8 Rainbow Ridge Steiner School

Blue Knob Hall Gallery 719 Blue Knob Road, Lillian Rock NSW 2480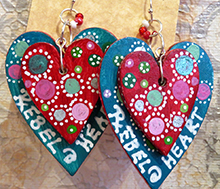 Rebel at Heart-Earings by Amanda Doran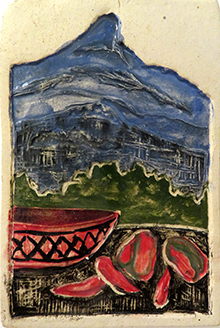 Wollumbin
by Shirley Miller & Heather Kimber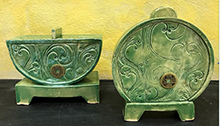 Good Fortune Money Boxes
by Cathryn Binstead