"The Artist's Choice"
Thursday 3rd Dec - first week in Feb 2021
The Artist's Choice: This is the annual show where there is no theme and artists bring in whatever they want to exhibit without the usual constrictions to work to. This new exhibition has a great variety of mediums from paintings, sculpture, fibre and pottery. If you're looking for that unique gift there is much on offer.
This exhibition will be open from Thurs 3rd Dec through to the first week in Feb 2021.
Holiday Closing Dates: The Gallery/Cafe and Ceramic Studio will be closed from Mon 21st December and re-opening on Thurs January 14th.
This is a slightly longer break, as we all need it; a well earned break for all the volunteers.
On behalf of Blue Knob Hall Gallery/Cafe & Ceramic Studio we wish you all the best for the festive season, and look forward to bringing you more art, food and friendship in 2021.
Blue Knob Cafe:
The Cafe and Gallery are open Thurs – Sun, from 10am – 3pm for seated dining and takeaway.
Due to Covid regulations the Cafe and Gallery will be operating with limited numbers for dining and viewing the exhibition.
For any further information regarding Gallery and Cafe please call us 0266897449 or email bkhgallery(at)harbourisp.net.au.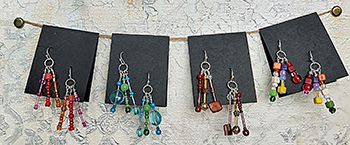 Earings by Amanda Doran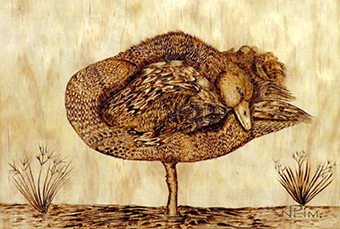 Black Swan by Neil Plim (Pyrography)
Blue Knob Hall Gallery 719 Blue Knob Road, Lillian Rock NSW 2480

Heart Felt Joy by Sylvia Briggitte (Painting)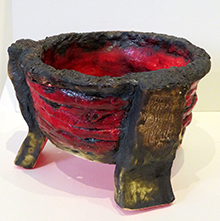 Red Cauldron by Anamaya Milner (Ceramic)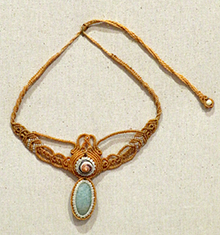 Macrame Necklace by Luna May 2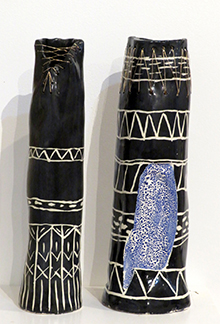 Mud to Stone (Mother-Father)
by Bronte Webster (Ceramic)