"The Fibre Show - Entwined"
Thursday 3rd June- Sat 31st July
It's that time of year again, and Blue Knob Hall Gallery's annual Fibre exhibition, 'Entwined', is looking good. There is so much in our lives that brings us together in some form or other, and makes us all part of that old adage "the fabric of life".
Fibre is integral to our lives; it is the wood we use to build our homes, the fabrics that cover our floors, windows and furniture. With everything from man made to natural fibres, we make art, sculpt and transform fibre into the everyday utilitarian items we use. With embroidery, sewing, felting, weaving, adorning our bodies, walls and gardens, we create astonishing, humorous and beautiful work that can make a statement but also comments on the state of humanity and the world around us.
Amanda Doran's wall piece is just such a statement. '3 Little Piggies' (made from Papier Mache and styled after the traditional flying ducks), make reference to colonial powers and the portraits of privileged peoples that hang in our clubs and public spaces. With each little piggy having its own plaque such as "This little piggy plays the stock market" anything goes when it comes to Fibre. To find out what the other 2 'little piggies' get up to, you will have to come along and enjoy the one show a year dedicated to the glorious medium - fibre.
Kim Jones -'Wild Weaver' is a regular contributor to the Fibre Show and her exquisite hand spun, hand woven; knitted silk and wool garments/artworks are a testament to the precision and dedication to her craft. These and much more are worth a visit
The exhibition runs from Thurs June 3rd to Sat 31st July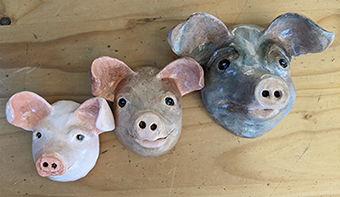 3 Little Piggies (Papier Mache) by Amanda Doran
The Blue Knob Hall Gallery & Café are open Thurs, Fri, Sun from 10am -3pm, and Sat 8.30am – 3pm when the Blue Knob Community Market is on.
For any further information regarding Gallery and Cafe please call us 0266897449
or email: bkhgallery(at)harbourisp.net.au
Blue Knob Hall Gallery 719 Blue Knob Road, Lillian Rock NSW 2480