"Nature's Cycles"
Fri 9th February - 18th March
'Nature's Cycles' is the first exhibition for 2018 and the cycles of life we live in, and are not separate from, can spark the imagination in an infinite number of ways. Cycles are a part of our everyday life, physically, emotionally, and spiritually.
Nature with its own rhythms and cycles has often had limitations put on it by human beings in an attempt to control and consequently interrupt this free flowing state.
This theme can be interpreted in as many ways as there are artists to interpret it and this exhibition expresses all those possibilities.
'Birds of a Feather'
An exhibition of works by Jenny Kitchener and Deborah Brown will be held in the Gallery's - The Solo Space.
Deborah Brown and Jenny Kitchener have been friends for over thirty years. The visual arts, teaching and a love of nature have formed the underlying bond to their long friendship. As artists, Deborah and Jenny have exhibited together many times in both individual and group shows. As teachers, they both taught at Afterlee Public School for many years. And as friends, they both share an appreciation of the diversity and beauty of the natural environment and a concern for the future of the planet.
'Birds of a feather' will present paintings, prints, photographs and craft objects which celebrate the bounty and beauty of the natural world.
The Opening Night for both of these exhibitions is on Friday 9th Feb at 6:30pm. A meal is available on the night, please call the Gallery 66897449 or email bkhgallery@harbourisp.net.au for more information.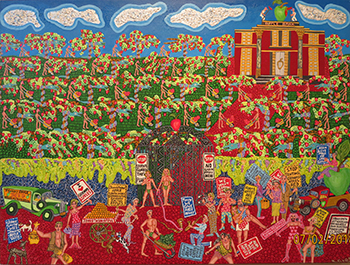 'Granny Smith Apples' by Theodore Kennett-Raj
Blue Knob Hall Gallery 719 Blue Knob Road, Lillian Rock NSW 2480