"Pre-loved, Re-loved"
Blue Knob Hall Gallery is having a're-used' art sale/exhibition called 'Pre-Loved, Re-Loved'.
This exhibition was inspired by a community gallery in Auckland NZ who were the first to stage an annual exhibition in that country for a're-used' art sale. We were getting a number of enquiries from members asking about re-selling artworks, so we thought we would give it a go.
This exhibition was an opportunity for members who might be downsizing or divesting themselves of artwork, to sell and re-home once-loved, original artworks including paintings, ceramics, photography, prints and sculpture (no jewellery/clothing).
The artwork that has been offered up for re-sale could have been purchased from anywhere or gifted to the seller. There is also the possibility that local artists work will re-appear for re-sale. Whilst the seller could retain the proceeds of the sale (less Commission) they also had the opportunity to donate part or all of the proceeds as a fund-raiser for the Hall.
Any new artwork entered by members/artists is on the condition that all proceeds are donated. Artworks that sell will be taken away, so we hope this will be a changing feast of works. This is an interesting challenge for us at the Gallery and we hope that many of the pieces will also stay in the local community.
We would like to thank our members/artists for supporting the Gallery and being involved in helping raise some always needed funds for Blue Knob Hall Gallery, Cafe & Ceramic Studio.
The exhibition will run from Thurs 3rd Aug –Sat 16th Sept with an Opening event 2:30-4:00pm Sunday 6th Aug.
The Blue Knob Hall Gallery & Café are open Thurs, Fri, Sun from 10am -3pm, and Sat 8.30am – 3pm when the Blue Knob Community Market is on.
For any further information regarding Gallery and Cafe please call us 0266897449
or email: bkhgallery(at)harbourisp.net.au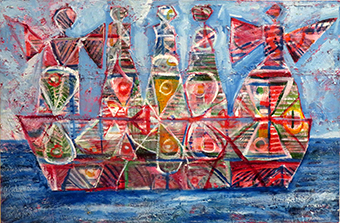 Boat People by Anthea Moffatt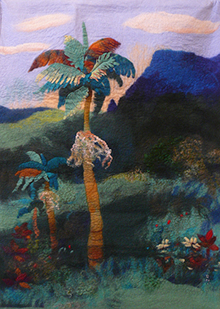 Bangalow Bride by Robin Moore
- Felt hanging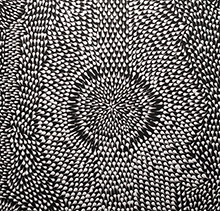 Porcupine Quills by Yorga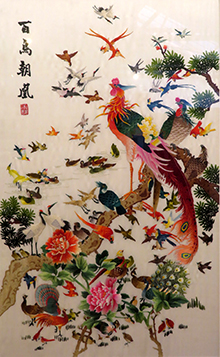 100 birds Artist unknown - hand embroidery