"Up and Down"
Fri 26th July - Sat 15th September 2019

'Up & Down' & 'Rainforest Trees of Australia' by Peter Poropat in The Solo Space
'Up & Down' is the new member's exhibition at Blue Knob Hall and it has been a challenge to artists who exhibit here but the work that has come in represents many aspects of the theme with some confronting images and many loosely interpreted ideas. It was felt that this theme could cover a host of ideas as we often describe things in terms of 'up and down' with 'what goes up must come down', 'I'm feeling a bit up and down', up hill and down dale'.......and of course Sisyphus the king who was punished for his self-aggrandizing, craftiness and deceitfulness by being forced to roll an immense boulder up a hill only for it to roll down when it nears the top, repeating this for eternity. We have landscapes, large and powerful totems by Rebekah Webster, 3D and 2D artworks from recycled bedsprings to ceramics and wood carving.
'Rainforest Trees of Australia' by Peter Poropat is a new exhibition in The Solo Space at the Gallery. Peter's work spans four decades, since the age of 17. Peter interest in identifying Australian rainforest trees has led him to publish two popular books on the subject; Barks and Trunksand Barks and Trunks Vol 2. Peter's skill and experience is such, that he is able to link rainforest trees to their family by bark characteristics, textures and trunk shapes.His passion for rainforest trees was initially sparked by the work of Queensland Botanist WD Francis. First published in 1929, Francis's book Australian Rainforest Trees recorded large rainforest trees for botanical literature. Inspired by this work, Peter set out to record these trees in colour to contribute to the botanical identification of eastern Australian rainforest trees. There are over 2500 Rainforest tree species in Australia and this solo exhibition will represent a small selection of tree species that represent a large number of genus's and families in the rainforest floristics of Australian Rainforest's from the Illawarra region NSW to Cape York FNQ.
Both exhibitions will run concurrently until Sat Sept 15th.
Blue Knob Ceramic Studio Artist of the month is Genevieve Davies. Genevieve has taken up a traineeship at the Ceramic Studio and is currently giving classes one morning a week. Her work is very pictorial and depicts her passion for our natural environment. She is currently working with underglaze stains and slips on functional ware, and includes hand-built as well as thrown pieces.
Artists & Friends The next lunch will be held on Thurs 29th August at 12.30pm with a set menu for $20 incl Main & Dessert.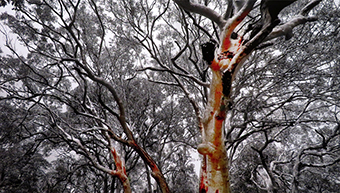 Eucalyptus Afternoon by Andrew Kapitzke

Blue Knob Hall Gallery 719 Blue Knob Road, Lillian Rock NSW 2480