'Ancestry' and 'Stories Alive'
Two new exhibitions at Blue Knob Hall Gallery
Fri 7th April - Saturday 28th May 2017
Thursday to Sunday from 10am
'Ancestry'
The new member's exhibition at Blue Knob Hall Gallery.
We have delved into and explored some of the meanings and possibilities that might inspire artwork from the artists and artisans who exhibit at Blue Knob Hall Gallery. We found that 'Ancestry' is about more than just human descent or family lineage, it can also be found in the history or origin of an object and how it comes into being.
Ancient artefacts and contemporary or more modern objects, can be represented in powerful forms in many cultures. These artefacts, objects or symbols are often imbued with a spirit/spirits which are frequently believed to possess the power to influence the affairs of the living. The artists and their artworks in this exhibition show that many aspects of this subject have been explored whether personal or impersonal.
'Stories Alive: Faces of Blue Knob' by Marie Cameron
Marie Cameron's photographic exhibition Stories Alive: Faces of Blue Knob is being held in conjunction with the regular member's exhibition. This is the first solo exhibition using the Gallery space that is now possible due to the panels that were built last year. Marie is a well known local identity and everyone knows her as 'A Woman with a Camera'.
Marie's work captures the intangible, and the inner quality of the person shines through her work, she has been a regular exhibitor at Blue Knob Hall Gallery and coordinates the Blue Knob Farmers: Fibre: Fermenters Market. Always, she has a camera in her hands.
Opening Night for these two exhibitions is on Fri 7th April at 6:30pm; Marie Cameron will present her work, with guest Sue Stock to open the Ancestry exhibition. Vocal Minority Choir will perform on the night. Blue Knob Cafe will be providing a meal with a set vegetarian menu for $20 per head for main and dessert. Bookings are essential for dinner. Please call the Gallery 66897449 to book or for more information.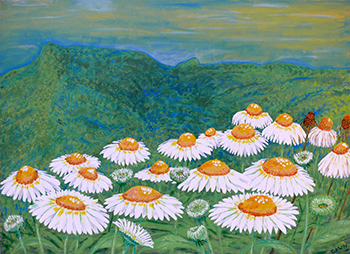 'Wild Daisies' by Dawn McDonald

Blue Knob Hall Gallery 719 Blue Knob Road, Lillian Rock NSW 2480