Historically the Blue Knob Farmers Market was started in 2007 and was meeting in the grounds of the Blue Knob Hall Gallery on Saturday mornings. Over the years it has operated under a number of different names as organisers and stallholders changed with the times.
Blue Knob Farmers Market was the first Farmers Market in the Nimbin Community and focused on local, fresh produce and artisan-made prepared foods and crafts.
Many of the stallholders were local farmers and small producers. The market operated as its own entity as a not-for-profit Incorporation with a committee that liaised with Blue Knob Hall Inc Committee to support events such as the Fibre Festival, Fermentation Festival, Trash 'n Treasure, Christmas Markets and a fund-raising annual Pumpkin Bush Dance over several years.
Central to that market was "The Back-Yarders" table, a place where excess produce that came from people's gardens could be sold free of charge.
Along with regulars selling local produce, ferments, seedlings, seasonal fruits and veggies, there was some take away food and 'occasional stallholders' including second-hand books and craft.
Many talks were held in the Moore Workshop Space on a market day that covered everything from gardening and growing, fermenting, talks and workshops on fibre and a series of talks on local wildlife.
The "Backyarders Table" continues to operate 8.30am-12pm Saturdays, find out more about the Blue Knob Backyarders Table and how you can be involved......
Blue Knob Gallery, Cafe & Ceramic Studio Facebook page
Contact email: bkhgallery@harbourisp.net.au
Sustainability is the theme ..... Grow local, buy local.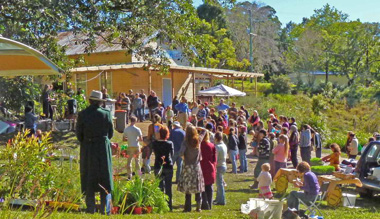 Blue Knob Hall Gallery
719 Blue Knob Road, Lillian Rock NSW 2480
Phone: (02) 66897449
bkhgallery@harbourisp.net.au