Every Saturday 8.30am - 1.00pm. A fabulous range of fruit, veggies, seedlings, woodfired breads and delicious pastries, as well as local home-made produce. The grain mill is also available to grind your own grains or buy them from the market.
Sustainability is the theme ..... Grow local, buy local.
Fabulous Opening
by Arts & Gourmet Food correspondent Len Martin
Yes folks, it really was a fabulous community event. So many people turned up there was almost a parking problem, there were cars everywhere. Now there's a sustainability issue! For sustainability was the theme for the day and is the name of the game. Grow local, buy local. This was voiced passionately by Peter Calkin, a member of the Farmers Market organising committee, a great MC who also provided music with Ian on accordion, played a mean ukelele, and led the mob in making animal noises!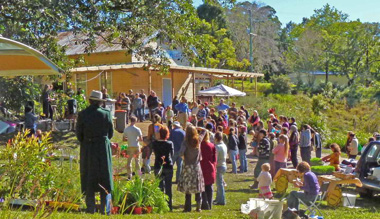 The need for sustainability was also addressed eloquently by Nimbin Neighbourhood & Information Centre's Nat Meyer who officially opened the Market - and no one has done more to promote sustainability in Nimbin than Nat. She noted that she was not the Mayor, not the Premier, not the Prime-Minister and not the Governor-General, but some wag in the crowd suggested she could well do all those jobs and more! Both speakers thanked Jeni, Robin, Heather and Blue Knob Hall Gallery members for their support.
We were blessed with perfect weather in a wonderful venue. No wonder the crowds turned up. It is another great Nimbin Community Venture, and a pretty good social event, reinforced by all that art in the Gallery and culinary delights in the Cafe. Complete culture - art and food! As well as numerous customers there were lots of stall-holders (21 I believe) with, among other things, a great variety of vegetables, fruit, native plants, organic yoghurt, top quality vegetable seedlings for planting out now, wood-fired oven-baked bread and a huge variety of preserves.
At last I managed to get some real marmalade - both stiff and runny - nothing like it in the supermarkets - and two jars of Green Mango chutney (ditto). Blue Knob Hall Farmers Market has so much more to offer than those dreary supermarkets with their endless, soulless, boring corridors of stuff.
Blue Knob Hall goes from strength to strength with this Farmers Market initiative, an initiative reinforced by the great progress made with the hall's verandahs - last week, at the Artists and Friends Lunch, they were only pegs in the ground, today the structures were sufficient to shelter many stall holders from our fierce winter sun.
So, by the time the next Blue Knob Hall Farmers Market is on - next Saturday in fact, and weekly thereafter (note that in your social diary) the whole place will be even more weather-friendly for stall holders& customers, not to mention family friendly - for this is a beautiful place for kids - complete with some much-used rope swings in the Old Big Fig.
So, tell your friends, come along and buy, or indeed bring.
Peter Calkin emphasised that the market committee was keeping stall-holders fees as low as possible to encourage wide participation, including back-yard growers - for further information Peter can be contacted at 66 897 004. And now I'm off to enjoy some real marmalade!
First printed "Nimbin Goodtimes".

Blue Knob Hall Gallery 719 Blue Knob Road, Lillian Rock NSW 2480
Phone: (02) 66897449
Open Thursday - Sunday 10:00am - 4:00pm