"The Nature of Things"
Fri 6th October - Sunday 19th November2017
Thursday to Sunday from 10am

The new exhibition at Blue Knob Hall Gallery is titled 'The Nature of Things'.
Nature - it's all around us and part of us, - the phenomena of the physical world collectively, plants, animals, the landscape, earth, and all those invisible cells/energy that make up everything we see, feel or touch.
The word 'nature' has fluidity to it and we also use it to describe the basic character, or qualities of something or someone – "the nature of his circumstances is ..." she has a friendly nature.
Things – we collect them, imbue them with qualities that take on significance and have their own 'nature' or personality. We often call something a 'Thing' when we can't or don't want to give it a name.
Our 'things' - we love them or hate them, but the artists who are exhibiting in this new exhibition have gone above and beyond – into nature, the natural, the elements of the earth and have contributed works that have come out of a love of the arts, a dedication to all nature and all things.......
Blue Knob Ceramic Studio is also exhibiting works from the participants who gather weekly and put their hearts into the clay and have produced some wonderful 'things' to exhibit and sell. For many it is their first experience of selling in a Gallery and under the 'guidance' of Heather Kimber they have shown what dedication, fun and playing in the materials of the earth can do.
The Opening night is Friday 6th October at 6:30pm. Our guest to open the show is Chris Hyde with Blue Knob Choir performing on the night.
A meal is available please call the Gallery 66897449 or email bkhgallery@harbourisp.net.au if you would like to stay for dinner.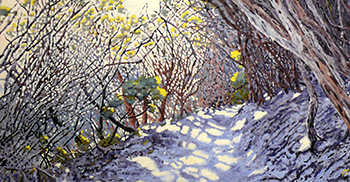 'Tunnel of Life' by Yvonne Preston
Blue Knob Hall Gallery 719 Blue Knob Road, Lillian Rock NSW 2480